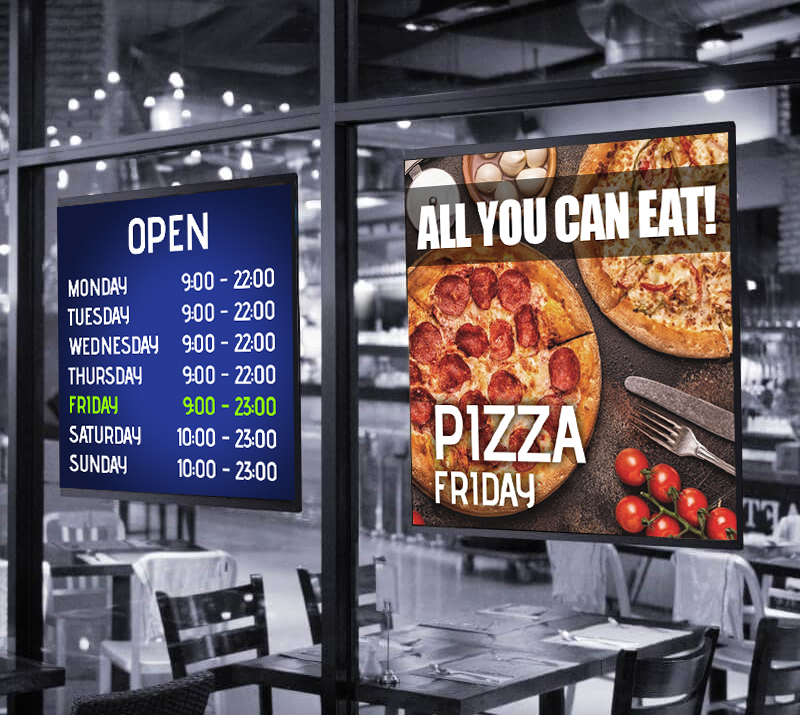 Broadcast your business hours and your dynamic promotions with a single open closed sign
For only $32.10 per month, broadcast dynamic promotions, store hours, and health and safety procedures with Nummax's digital business hours sign. What's more: leverage this unique space to create a new revenue stream for your business by displaying advertising from your suppliers. 
Visible at 100+ feet even on a bright sunny day, this open closed sign is light, slim and easy to install. 
The LED Open Sign Wi-Fi connection will allow you to upload, update and schedule your promotions in real time via your laptop, thanks to the Nummax Manager Content Management System. 
Say goodbye to open closed signs from another era and boost your sales with storefront dynamic advertising.
Grab customers' attention and increase in-store traffic
Reach audiences in any brightness condition 
Visible through tinted storefronts 
Noticeable at 100+ feet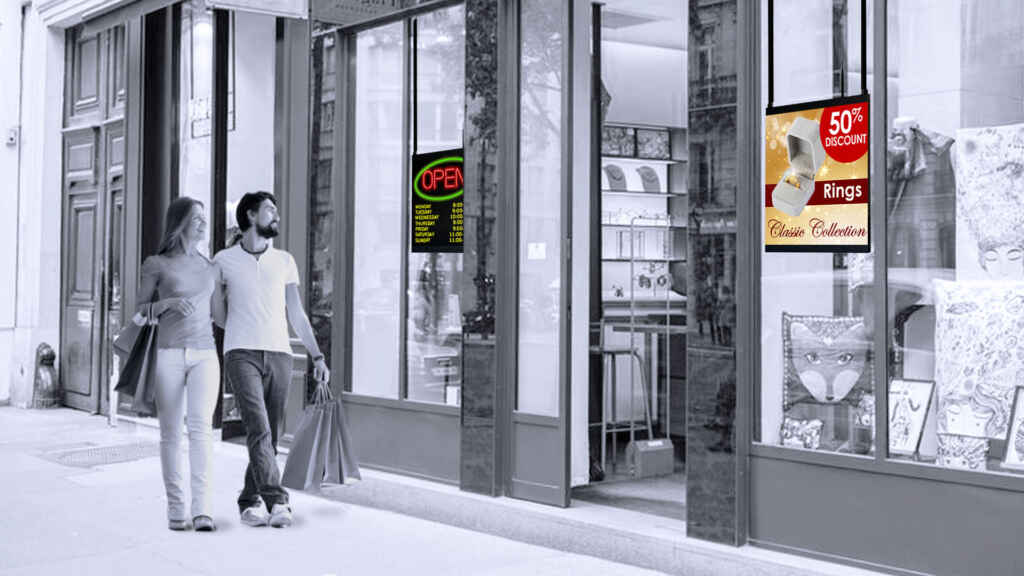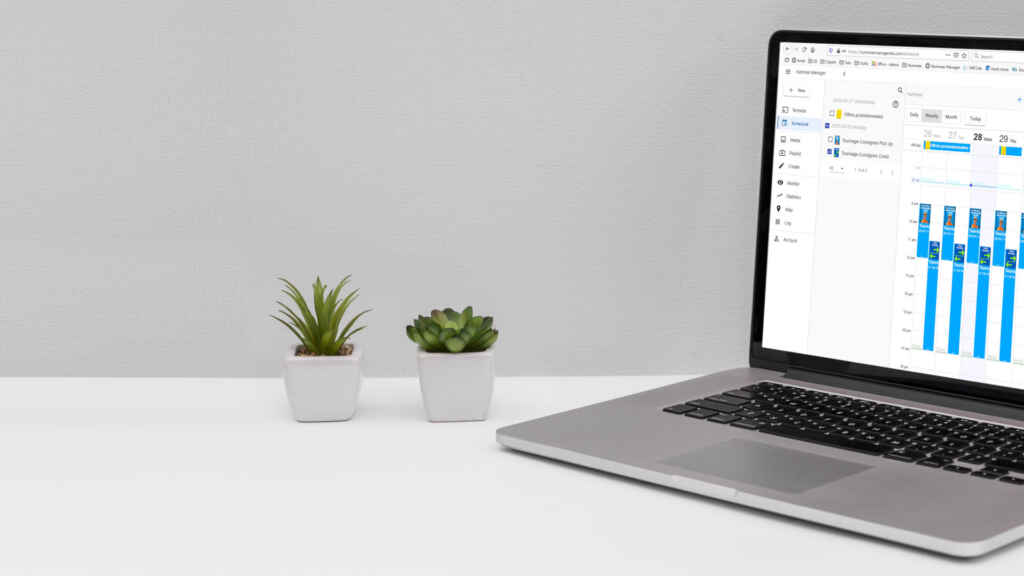 Broadcast your promotions easily
Broadcast pictures, animations and videos
Create slideshows
Build your own template
Broadcast time, weather, countdowns and more!
Get a quick return on investment
For a monthly payment of $32.10 or a single investment of $1,369, broadcast your own promotions.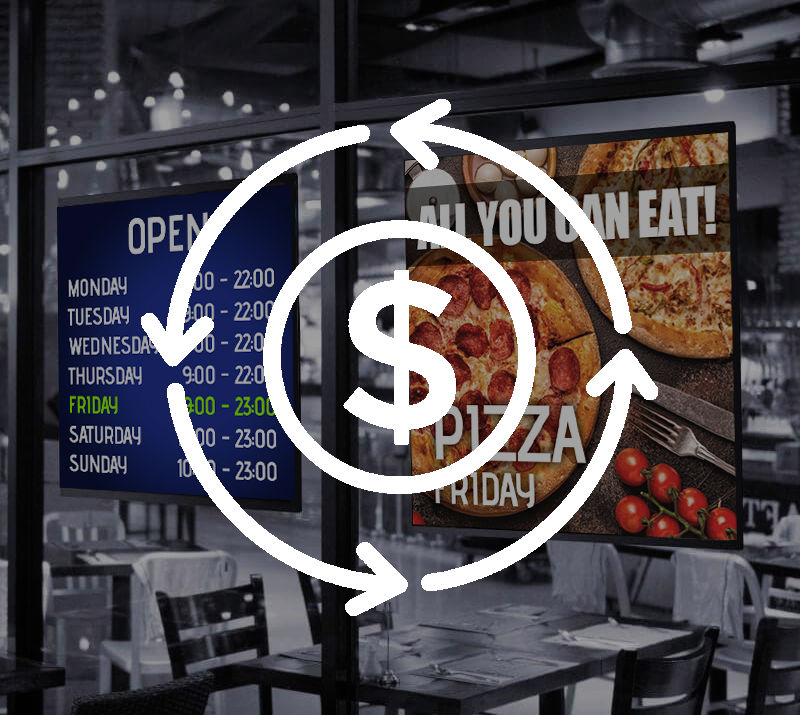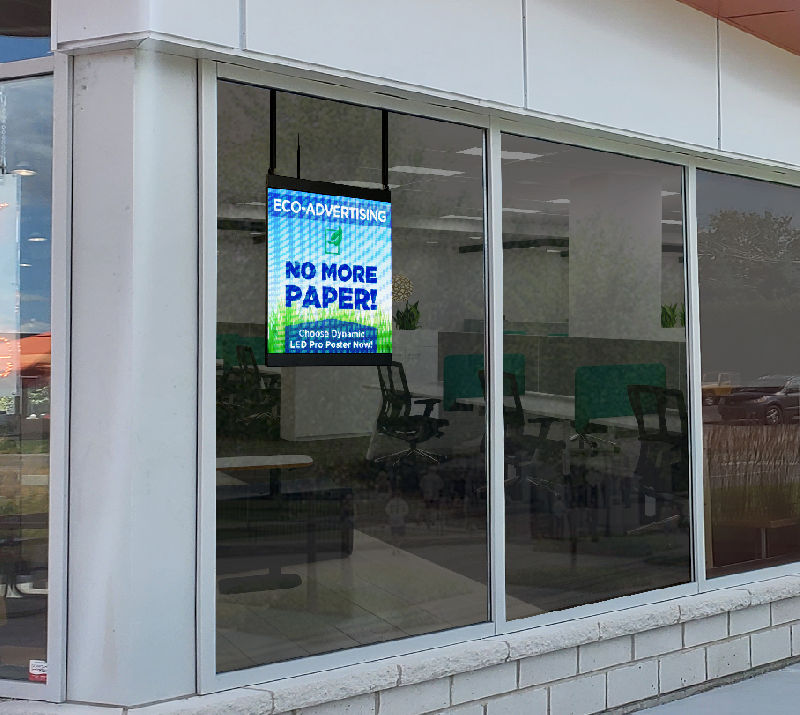 Requires less electricity than two 100-watt light bulbs

10-year lifespan

3-year warranty
LED Open Sign Technical Specifications
| | |
| --- | --- |
| Total dimensions (W x H x D) | 640 x 750 x 30 mm 25.19 x 29.52 x 1.18 in |
| Brightness | 1800 nits |
| Viewing distance (minimum) | 13 ft / 4 m |
| Lifetime | 100 000 H+ |
| Power | AC-110-240 V |
| Warranty | 3 years (parts & labor) |
| Working environment | Window interior |
| Weight | 15.5 kg / 35 lbs |
| Communication | Wi-Fi / Cable |
Advantages of digital signage solutions

Economical
Our easy-to-use Management Software, Nummax Manager, lets you remotely plan the broadcast of all types of contents in minutes. Dynamic signage makes it possible to tailor your messages to the time of day or the needs of different markets.

Simple, flexible broadcasting
Up-to-date communication, campaigns that are better received and more effective as a result of cutting-edge technology, which enhances your organization's image.

Eye-catching and attractive
Striking, responsive communication made possible through the display of messages in real time.

Powerful
Optimum return on investment and rapid results through an effective marketing strategy. Dynamic signage will give your messages more impact than ever.