I want my giant LED display right now!
The date I am writing this article is very important: It is (May 30, 2022).
In the Western world, the two years of the pandemic are fading away—but the economic impacts are still felt.
First of all, businesses are dealing with skyrocketing inflation, soaring fuel prices and major congestion in supply chains between the East and the West.
It is without a doubt that China is the world's factory—with many manufacturers depending on the country to produce their goods.
And when China enforces restrictions, shutdowns, and mandatory lockdowns of its population, it puts entire manufacturing sectors in trouble.
Like many companies, Nummax also suffers from soaring transportation costs and supply chain issues.
But for the past two years, the Nummax team has been implementing a strategy to allow some of our customers to benefit from "normal" delivery times for their orders of giant LED displays.
How is this possible?
Nummax: A manufacturer of giant LED displays with vertically integrated development
Nummax's head office is located in Québec City, Canada. This is where all projects are designed, and all orders are processed.
R&D and production lines are located in the same factor. What's more: all parts and projects are shipped from the factory to our customers across North America.
Like many companies, Nummax's suppliers and parts manufacturers are situated overseas, primarily in Asia. But what sets Nummax apart from many other LED display manufacturers is that Nummax also has a presence in China and a local team.
The Nummax team in China supports the manufacturing of parts (e.g., metal cases, cards, etc.) to ensure compliance with headquarters' designs and specifications.
This manufacturing approach allows the company to work on various specific and innovative projects without as many supply chain issues.
In addition, Nummax co-owns a LED module manufacturing plant. Controlling the manufacturing of this critical part of a giant LED display is essential.
But when the flow of goods is reduced, all manufacturers are affected and have to work with increasingly long delivery times.
Fortunately, Nummax had developed a strategy to address this issue long before it arose.
A standard case for your giant LED display
Each project delivered by Nummax includes installation and connection documentation to facilitate the work of installers. The guide provided is designed specifically for the project being commissioned.
Nummax designs custom LED displays and produces cabinets of any size.
But to simplify the manufacturing process and optimize costs (to the benefit of our customers), Nummax has been working for many years with a standard cabinet that allows for a multitude of combinations and sizes of giant LED displays.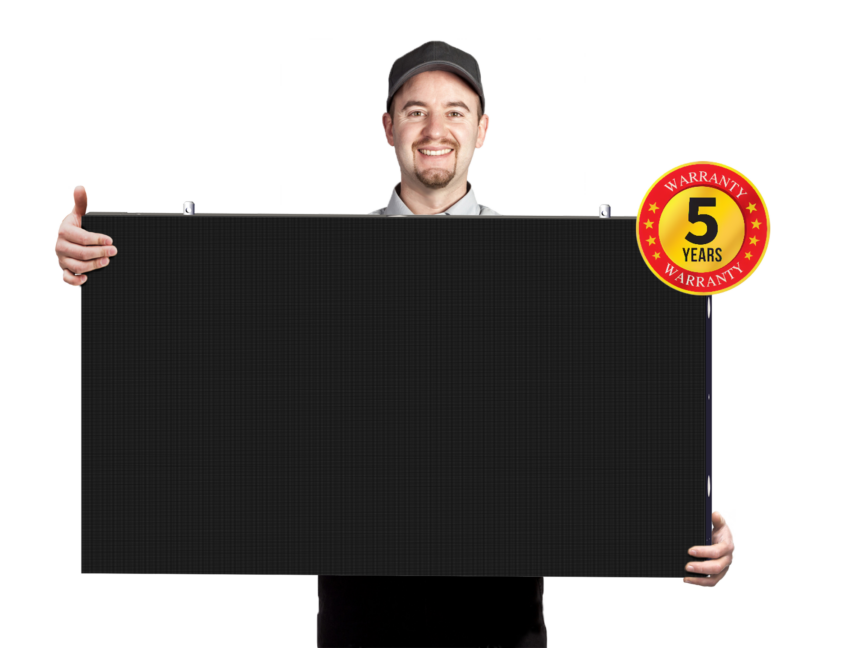 Technical Specifications
| | |
| --- | --- |
| Size: | 44.09″x25.19″x4.52″ (1,120 x 640 x 115mm) |
| Life Span: | +100,000 h |
| Brightness: | 1000-1500 nits |
| LED: | SMD 3:1 |
| Module size: | 12.59″x6.29″ (320 x 160mm) |
| Weight: | 57 lbs (metal cabinet) |
| Power: | AC 110-240V |
| Consumption average: | 350W |
| Working temperature: | 23-140°F (-5/60°C) |
| Working humidity: | 10-80% |
| Frame: | Steel |
| Compliance: | cETLus |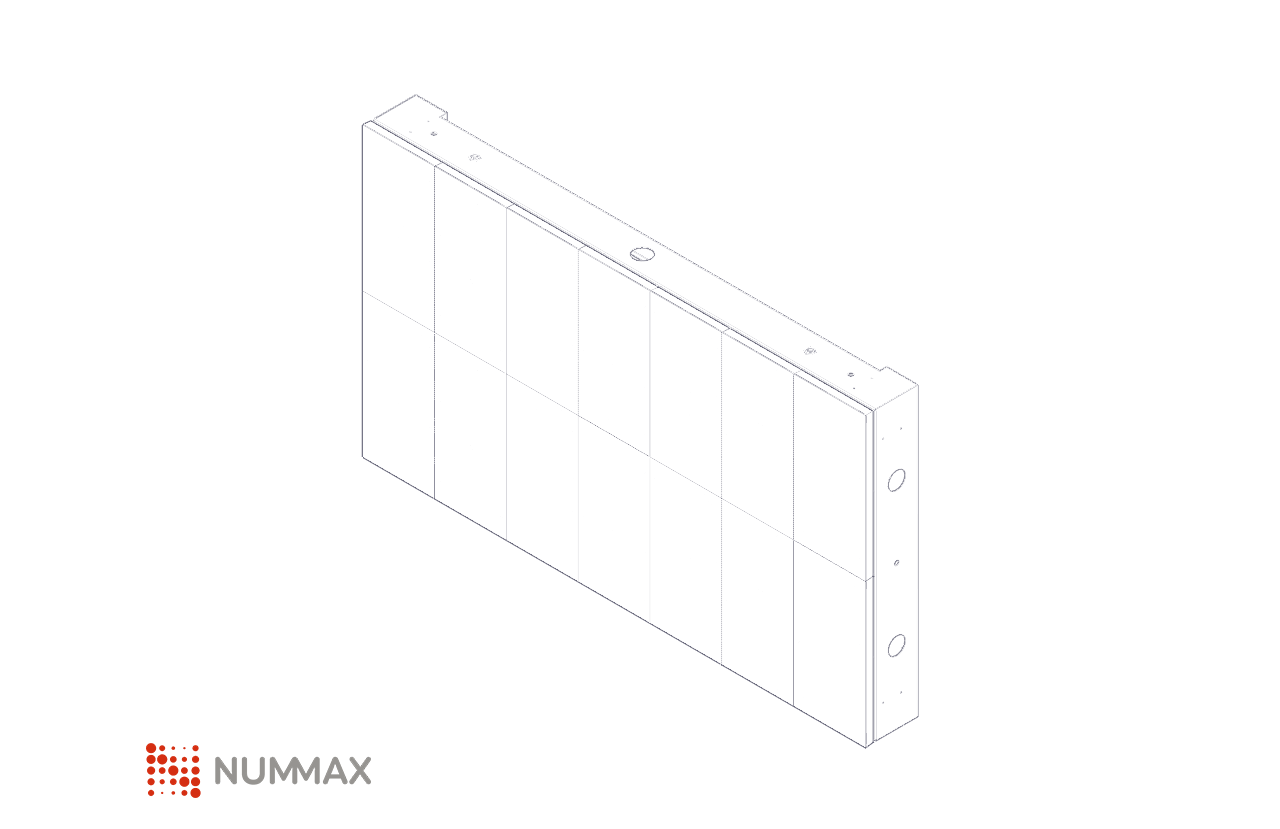 As an extension of this optimization, the company has been implementing a rigorous supply and storage plan for its standard boxes for two years now.  With this plan, customers benefit from the lowest possible prices and reduced delivery time.
With lead times getting longer every week, this strategy has allowed us to meet customer needs even in times of the supply chain crisis. For the customers, all they have to do is choose one of the three pixel pitches available:

Then, they choose one of the dimensions of a giant LED display in the table below.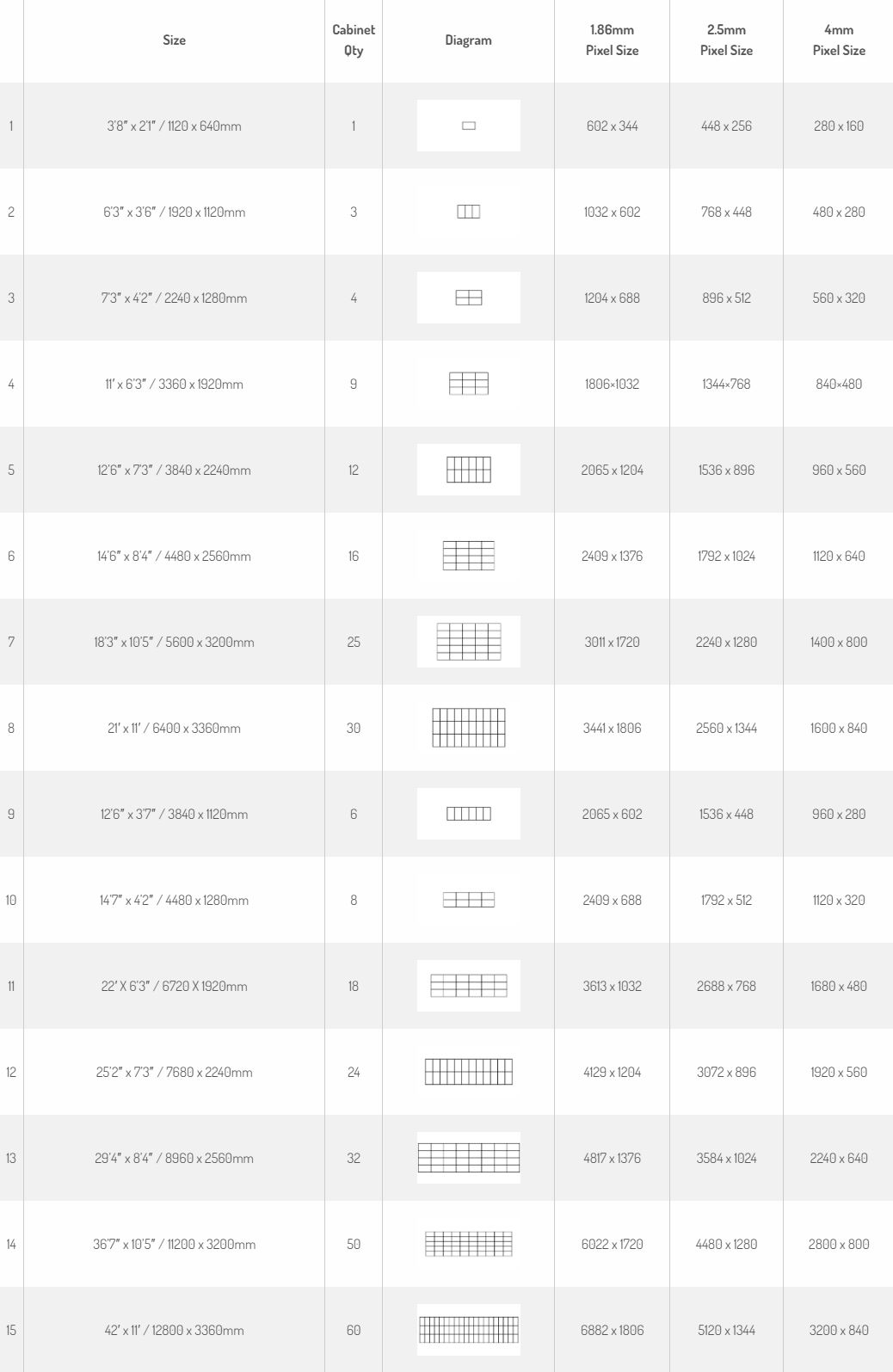 The secret to getting your giant LED display quickly
The first recommendation is to work with a manufacturer on the same continent as you. If you are located in North America, Nummax is a good choice.
Your order will be sent from Canada, the documents will be in English or French. You will benefit from technical service in your language within time zones that correspond to your working hours or close to them.
Nummax has a team of technicians in the province of Quebec and partners throughout North America, including Mexico. Nummax LED displays are guaranteed for five years for parts and two years for labour.
By choosing a standard size of giant LED display (in our table), you will benefit from a delivery time of less than 10 weeks—and even less depending on the size you choose. All this is accompanied by its simplified installation and connection guide.
Feel free to submit your indoor LED display project to us! Nummax will be able to advise you on a model as well as the exact lead time and cost for your location.
Get a quote for your giant LED display