LED STANDARD CABINET FOR VIDEO WALLS
Create videowalls of any size with consistent colors
and perfect uniform image!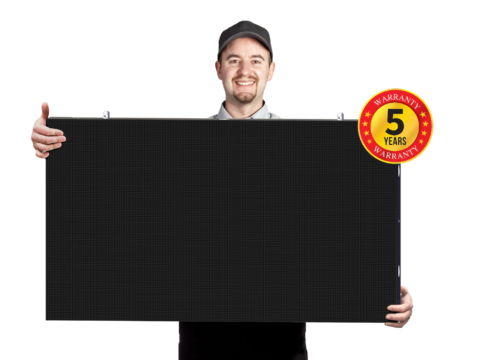 Broadcast crisp and sleek image with LED Video Wall
Whether you want to broadcast a live sporting event or create a unique ambiance in your store, restaurant, sports bar or lobby, the LED Video Wall delivers crisp and clear images on an entire wall whatever its dimensions.
By opting to LED wall display instead of a TV wall, you say goodbye to bezels, contrast issues between devices and calibration problems between equipement. LED Video walls provide you twice the lifetime compared to commercial LCD TV. Concretely, it means 10 years of reliable broadcasting.
LED display screen creates clear images even in a sun glaring environment. A large indoor LED screen can also be subdivided to broadcast different live feeds or camera shots.
Get the best value from our preconfigured video walls
At Nummax, we want to democratize LED Videowall by making it easy to shop, to get and install. By building our indoor video wall with standard-size cabinets, we make sure to provide you the best broadcasting solution at the best price. 
With over fifteen configurations available in 3 different pixel pitches, it gives you access to 45 preconfigured video walls delivered all with an IKEA-style installation guide to make your life easier. 
Whether you need a small 1120 mm x 640 mm (3'8" x 2'1") LED screen or a giant 12 800 mm x 3 360 mm (42′ x 11′); whether your audience is near of far from the screen; you will find a display that match you requirements. 
| | |
| --- | --- |
| Size: | 44.09″x25.19″x4.52″   (1,120 x 640 x 115mm) |
| Life Span: | +100,000 h |
| Brightness: | 1000-1500 nits |
| LED: | SMD 3:1 |
| Module size: | 12.59″x6.29″  (320 x 160mm) |
| Weight: | 57 lbs (metal cabinet) |
| Power: | AC 110-240V |
| Consumption average: | 350W |
| Working temperature: | 23-140°F (-5/60°C) |
| Working humidity: | 10-80% |
| Frame: | Iron |
| Compliance: | cETLus |
For the newbies in the LED technology, pixel pitch is the distance between 2 pixels measured from the center of the first pixel to the center of the second pixel.
Depending where your audience is versus your screen you will require a specific pixel pitch to provide sleek images. The rule of thumb is to get a ratio of 1.8 m per 1 mm to get a perfect image. For example, if your audience is at ±3 meters, you should get a 1.86 mm pixel pitch. However if your audience is at +7m, you should get a 4mm pixel pitch. So choose your pixel pitch based the average distance between your audience and the videowall.
To learn more about pixel pitch, look at the FAQ section below or contact us!
Size
Cabinet Qty
Diagram
1.86mm
Pixel Size
2.5mm
Pixel Size
4mm
Pixel Size
1
3'8″ x 2'1″ / 1120 x 640mm
1

602 x 344

448 x 256

280 x 160

2
6'3″ x 3'6″ / 1920 x 1120mm
3

1032 x 602

768 x 448

480 x 280

3
7'3″ x 4'2″ / 2240 x 1280mm
4

1204 x 688

896 x 512

560 x 320

4
11′ x 6'3″ / 3360 x 1920mm
9

1806×1032

1344×768

840×480

5
12'6″ x 7'3″ / 3840 x 2240mm
12

2065 x 1204

1536 x 896

960 x 560

6
14'6″ x 8'4″ / 4480 x 2560mm
16

2409 x 1376

1792 x 1024

1120 x 640

7
18'3″ x 10'5″ / 5600 x 3200mm
25

3011 x 1720

2240 x 1280

1400 x 800

8
21′ x 11′ / 6400 x 3360mm
30

3441 x 1806

2560 x 1344

1600 x 840

9
12'6″ x 3'7″ / 3840 x 1120mm
6

2065 x 602

1536 x 448

960 x 280

10
14'7″ x 4'2″ / 4480 x 1280mm
8

2409 x 688

1792 x 512

1120 x 320

11
22′ X 6'3″ / 6720 X 1920mm
18

3613 x 1032

2688 x 768

1680 x 480

12
25'2″ x 7'3″ / 7680 x 2240mm
24

4129 x 1204

3072 x 896

1920 x 560

13
29'4″ x 8'4″ / 8960 x 2560mm
32

4817 x 1376

3584 x 1024

2240 x 640

14
36'7″ x 10'5″ / 11200 x 3200mm
50

6022 x 1720

4480 x 1280

2800 x 800

15
42′ x 11′ / 12800 x 3360mm
60

6882 x 1806

5120 x 1344

3200 x 840