3 benefits of using a drive-thru or a self-service kiosk for your restaurant
Restaurants are continually working on growing their business by adopting new technologies.
Digital signage has already been popping up in the fast food world for many years.
Today, multiple products are now available, whether televisions to display menus, self-service ordering kiosks, mobile applications or online ordering sites. And even new interactive kiosks for drive-thru have been added to the diversity of digital solutions.
Nummax is an interactive kiosk manufacturer that meets these needs and offers two high value-added solutions for your restaurant: the self-service kiosk and the drive-thru kiosk.
Here are three benefits of equipping your restaurant with these products.
#1 Multiply your points of sale
The points of sale in your restaurant require a space to install a checkout and payment, operated by an employee who takes orders.
With the Nummax self-service kiosk, these different elements are contained in a single piece of equipment. The customer himself places his order and makes his payment.
Like a standard POS, information is sent directly to production for meal preparation.
Because the self-service kiosk is equipped with a computer running Windows or Android (your choice), you can implement your, already proven, control software on other equipment.
If the size of your restaurant allows it and you have enough space, you can put several self-service kiosks to multiply your points of sale. It is even possible to install the kiosks directly on the walls to free up circulation areas.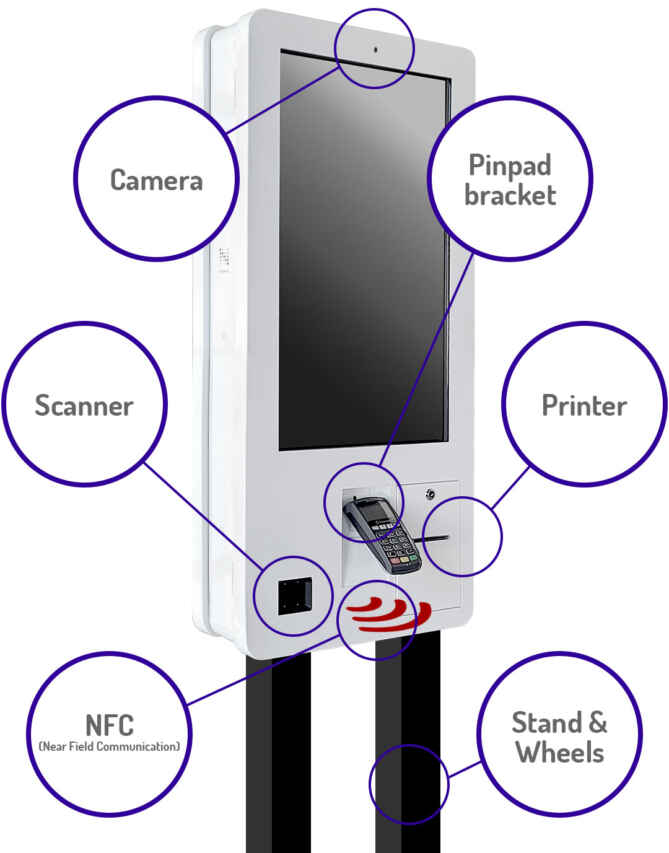 For the outdoor drive-thru kiosk, the space constraint is critical. One traffic lane is required per kiosk with an entrance and sufficient clearance for different sizes of vehicles.
Each Nummax drive-thru kiosk is equipped with its own communication system including microphone, speakers and motion sensor to activate the system when a vehicle approaches.
Communications are redirected to an employee who receives customers' orders.
Adding points of sale in your restaurant offers several choices to your customers.
#2 Increase the number of customers served
The current problem of labor shortage strongly affects restaurants.
This challenge has a direct impact on the customer's experience who is forced to endure longer queues, slower meal preparation when it is not simply closed restaurants due to lack of staff.
This shortage of vital force increases the burden on the few employees present.
The use of self-service kiosks relieves the work of reduced teams by minimizing queues. This makes it possible to serve more customers with fewer staff.
The activity of your restaurant could even be simplified to its minimum with only a cooking team in the kitchen and self-service kiosks to take orders.
Also, if the customer does not want to get out of their car and your restaurant is equipped with a drive-thru, you offer one more possibility to optimize the customer experience.
#3 Advertise your promotional offers where customers order
A major advantage of dynamic signage is to allow promotional messages to be broadcast.
Its medium-term cost is much more advantageous than printed campaigns. The logistics of designing a poster, printing it, shipping it, installing it, uninstalling it and recycling it soon gave digital the edge.
Even if the initial investment is greater, the amortization is rapid and the return on investment effective. Imagine that, promotional offers are broadcast at the very place where the customer places his order. The impact is immediate.
With dynamic digital signage, any restaurant can improvise a last-minute promotion and see improved sales quickly. It is a real power of influence on the purchasing process.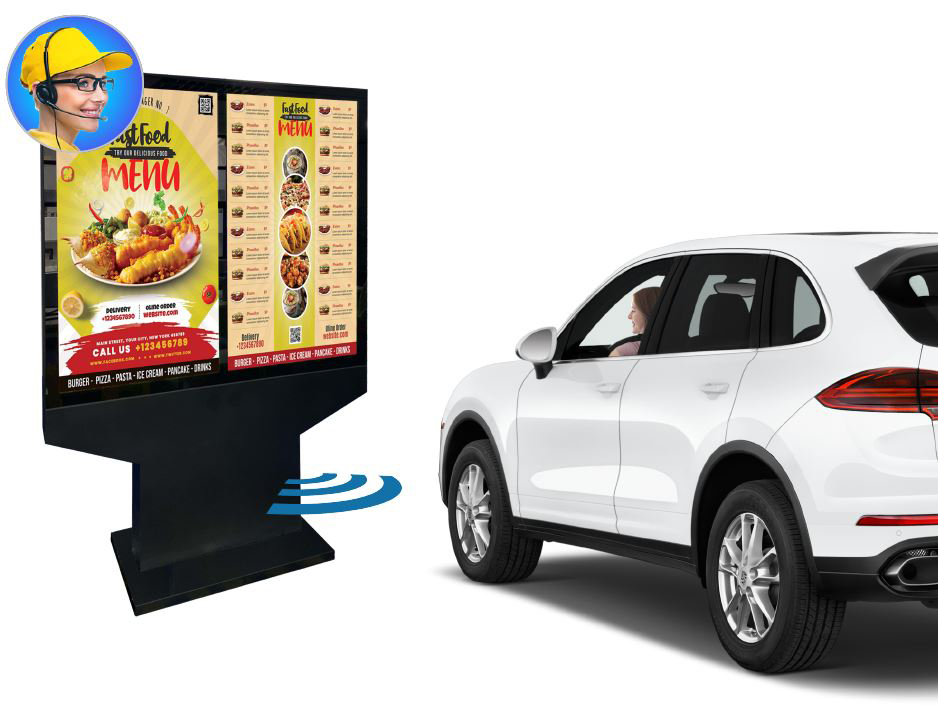 And this, without the need for significant logistics in the background.
Self-service and drive-thru kiosks can perform the same function as a menu television.
When the equipment is not used by a customer to place his order, the kiosk can broadcast offers and ads from the restaurant.
The display's quality is the same as a television with its HD (1080 x 1920) or 4K (2160 x 3840) resolution.
Content control is managed by remotely accessible broadcasting software.
A marketing manager can easily program campaigns and messages from home with a connected computer.
Solutions for your restaurant growth
The fast food world has made its digital shift by rapidly adopting dynamic equipment.
Nummax's self-service and drive-thru kiosks are part of a strategic choice for restaurants.
This touchscreen and interactive equipment (detection of vehicles) makes the increase of points of sale possible to receive orders from customers. It releases the growing queues due to lack of staff with the major advantage; broadcasting messages and promotional offers where the customer orders.
Finally, the evolution of things and the new constraints propel the world of catering into the need of digital solutions.
Nummax is a major partner that offers kiosks specially designed to meet new market requirements. If you have not done so yet, visit our pages dedicated to interactive kiosks or contact Nummax to get a quote.