Drive-thru Kiosk: The winning solution for many restaurants!
New restrictions are still impacting many countries around the world.
Every business must adapt to keep providing products and services while complying with government directives, restrictions and health procedures. The constraints faced by restaurants also affect customers in the way they order food.
Now, whether in the restaurant's dining room or through a mobile application, new processes have become commonplace for ordering meals.
But there's a much older mode of interaction now gaining new momentum: the drive-thru.
Place your order!
The idea of not leaving your car to benefit from a service from a merchant was born in the United States in 1921 as an initiative by Jessie G. Kirby. He owned the very first restaurant, Kirby's Pig Stand, which became Woodfire Kirby's, to offer drive-thru service with waitresses on foot.
Thanks to the banks, which also adopted this idea for depositing money, the process has transformed and improved to give rise to counters, lines, and much later because of advances in electronics, to communication systems.
Today, many restaurants commonly use this method and we're all familiar with this way of ordering and being served.
With this century-old idea, we've discovered an opportunity for all restaurants during this difficult period, because it is one of the solutions that best complies with government health guidelines: physical distancing, zero contact, ventilation of spaces, and the icing on the cake is that you don't need to ask your customers for their proof of vaccination.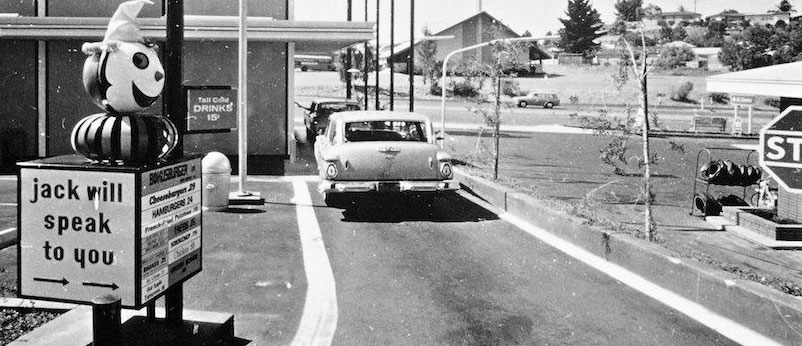 The process of ordering your meal at a first stop then paying and receiving everything at a second or even third stop is well established. But the different solutions available on the market may not always best meet the needs of quick-service restaurants.
The right drive-thru formula
The steps to operating a good drive-thru are simple but crucial.
You must display the menu so that the customer can make their choice, detect the presence of a vehicle, and initiate communication to take the order. Unfortunately, it's difficult to find systems that integrate all three of these requirements, let alone in a single piece of equipment. And this all must also be easy to install with costs kept reasonable.
Nummax is aware of these different requirements, and in 2021 launched a new drive-thru kiosk that fully meets the needs of users and restaurateurs.
The Nummax vehicle drive-thru kiosk
During its design, the objective was to create a very affordable terminal that is easy to install.
Not all restaurants have an outdoor area large enough for a specific drive-thru circuit. And sometimes the space available to set up a communication point is very small.
With its sleek design, the Nummax drive-thru kiosk meets these first requirements because it only requires a 110-volt electrical supply and a network line to operate the entire system.
Sold in two sizes, you can choose between a kiosk with a 55" screen (885mm x 500mm ground base) or a kiosk with a 75" screen (1220mm x 500mm ground base) to display your marketing content and your menu.
The kiosk is equipped with a vehicle motion detection system, a microphone and a speaker connected to the internal computer.
The equipment was designed in Canada and withstands cold country weather conditions perfectly with heating equipment built into the kiosk that keeps the entire system at a constant temperature.
An all-in-one communication system
When a restaurant chooses the Nummax drive-thru kiosk, it also gets a tablet, a headset with microphone, as well as a communication and menu broadcasting software.

The system operates as follows:
Kiosk sensor detects a metal mass in the configured area (this area ranges from 50 cm to 5 m).
The kiosk's computer sends a signal by network to the employee's tablet.
An employee initiates communication through the tablet, which turns on the headset microphone and speakers as well as that of the terminal.
Customer places his order with the employee.
Vehicle proceeds to the payment window.
The employee can terminate communication using the tablet, or let the terminal computer cut off communication when no more vehicles are detected in front of the sensor.
The winning solution for restaurants during a lockdown
Each drive-thru terminal uses Nummax Manager content management software, which enables information to be displayed on the screen. Whether it's promotions, featured products or the menu, the restaurant benefits from a marketing communication channel.
The 4K display can be divided into individual zones in Nummax Manager.
This makes it possible to broadcast promotional displays that are visible from afar, while keeping the menu content display at motorist eye level. If necessary, Nummax also provides the option of installing panels on each side of the terminal for displaying paper posters.
One of the important considerations in this type of solution is its cost.
Sometimes these are not all-inclusive systems. Several pieces of equipment are required to build the solution (order kiosk, display component, communication devices, etc.), which inflates the invoice before you receive the first order.
Nummax has found a way to overcome this challenge by offering a complete solution at a very competitive price.
The digital display system, vehicle detection sensor and communication tools (the right formula for a drive-thru) with your choice of a 55" or 75" 4K display.
The solution comes with a three (3) year parts and labour warranty for peace of mind while you pay off your investment.
What to remember about the drive-thru kiosk solution
If you own a restaurant, you're certainly looking for solutions to keep your business afloat during this difficult period.
There's no need to look for innovative solutions. Sometimes a solution invented more than a hundred years ago, such as the drive-thru, may be the best remedy to the current problem.
In fact, this solution meets government requirements and health guidelines perfectly so as not to interrupt your business activity and in some cases, compensate for the lack of staff.
And as was the case in the last century, the drive-thru kiosk can also be used by other business sectors restricted by health measures such as banks, grocery stores, supermarkets and all other retail businesses that have access to outdoor space.
The drive-thru kiosk is THE winning solution for businesses during this pandemic period.